Your One Source for Engine Services
---
When the people of Tucson think about engines, they think about us. We have a great reputation when it comes to everything engine-related. From small to "kind of large," we service most vehicles. If your engine has seen better days, or if you're looking for an upgrade, come to Engine Exchange & Machine!
Having spent the past 22 years in the same location working on similar projects, we've picked up a thing or two about the engine industry. Our team has the skills, experience, and equipment to offer any engine services you need, including:
Crank Grinding
Engine Balancing
Cylinder Head Work
Line Boring (Perfect Bores Every Time!)
Block Boring and Honing
One-off fabrication

Break in engine on test stand by professional. Ensures proper cam wear, no leaks, no problems ready to be installed by you.
We run the engine for 20 minutes at high rpm to ensure the cam and lifters are lubricated properly. A compression check is performed on every cylinder, as well as physically confirming no leaks or problems of any kind.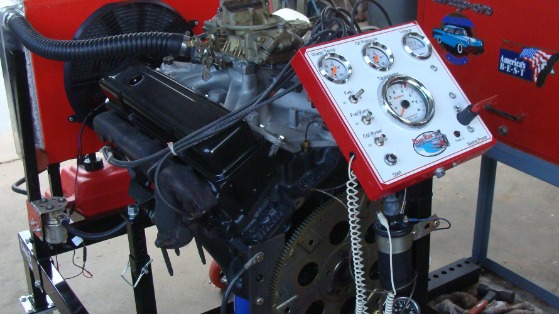 Breaking in the motor on stand prior to giving to customer guarantees their are no problems that could be overlooked by the most stringent of professional mechanic, such as gasket and seal failures. Failure to break in cam correctly will result in cam failure and more time and money spent by the customer.